| | |
| --- | --- |
| Rates & Services | Translator tool provided for the benefit of our customers. Please note English is used when calling to schedule a cab. |
Yellow Cab is an on demand transportation company. When you place your order we do our best to service your request in a timely manner. Due to the nature of our business we cannot always predict the volume of calls or the amount of traffic our drivers will be dealing with at any given time. Rest assured, we are doing our very best to get you where you need to be as quickly and safely as possible.
Need a Ride
We serve all area airports including (Dulles, National, BWI, Richmond, Manassas and Stafford)
Corporate Accounts
Executive Sedan Service
Hourly Rates
Pre-Paid Swipe-N-Ride Cards
Courier Service (packages, letters, prescription delivery)
We have a variety of vehicles to meet your needs including Vans & Handicap Accessible Taxi Cabs
No Matter the Occasion
Birthday Celebration
Night On the Town Anniversary
Corporate Dinner Guest Travel
Business Client Transportation
Senior Citizens
Teens
Rates & Services
Rates for taxi cabs in Prince William County are:
$3.00 for the first 1/10 of a mile, or fraction thereof for a single passenger
$0.20 for each additional 1/10 of a mile, or fraction thereof
$1.00 for each additional passenger, in excess of one, four(4) years of age and older
$0.20 for each thirty-two seconds of waiting time (no charge for distance)
$2.00 Personal service charge (when driver must leave the vicinity of the Taxi)
Waiting time includes:
Time spent while the taxi cab is waiting and available to the passenger beginning five minutes after the time of arrival to the dispatch destination. No time shall be charged for premature response to a call
Time spent while the taxi is stopped or slowed due to traffic.
Time spent due to delays or stopovers at the direction of the passenger.
Fares for accessible service are the same as for other Yellow Cabs of Prince William County. All accessible vehicles are smoke free vehicles.
Rates Approved by Prince William County Board County Board of Supervisors, October 1, 2008.
"Yellow Cab assures that no person shall, on the grounds of race, color, national origin, or sex, as provided by Title VI of the Civil Rights Act of 1964 and the Civil Rights Restoration Act of 1987 (Pl 100.259), be excluded from participation in, denied the benefits of, or be otherwise subjected to discrimination under any program or activity. Yellow Cab further assures that every effort will be made to ensure nondiscrimination in all of its programs and activities whether those programs and activities are federally funded or not. In the event Yellow Cab distributes federal aid funds to another governmental entity, Yellow Cab will include Title VI language in all written agreements and will monitor for compliance. Yellow Cab's Title VI Officer is responsible for initiating and monitoring Title VI activities, overseeing the preparation of required reports and overseeing other Yellow Cab responsibilities as required by Title 23 Code of Federal Regulations (CFR) part 200 and Title 49 CFR part 21."
Accessible Vehicle Service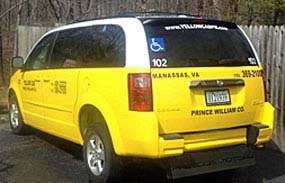 In March 2013 Yellow cab of Prince William County added handicapped accessible vehicle service. Individuals can be transported in their wheelchair or, if able, the chair can be placed in the back with the individual in a standard passenger seat.
Rest assured that our drivers have received training in the proper securing of mobility devices and all have passed an extensive training course through the Independence Empowerment Center and other resources.
Accessible vehicles are equipped with ramps and safety restraint systems consisting of an "in the floor tie down system" and a unique seat belt system designed to keep our wheelchair clients safe. The vehicles are ADA compliant and will accommodate standard sized wheelchairs and power chairs with four comfortable seats for other passengers.
They can also accommodate standard sized scooters. It is highly recommended that a passenger on a scooter be able to transfer themselves to a passenger seat for their safety.
Passengers can request immediate service, but due to limited availability, reservations are recommended at least an hour or two in advance. Reservations may also be set a day or two, or even a week or more, in advance.
Executive Sedan
Our executive sedan service is charged an hourly rate costing less than a limousine.
Sedan Service is great for a night on the town, no need to worry about a designated driver.
Your next trip to the airport, why pay to leave your car unattended!
Site-seeing, take your out of town guest to see the sites without worrying about parking
School Dances, treat your teens to a chauffeured ride without the high cost of a limo.
Any time you want to leave the driving to someone else.
Online Reservations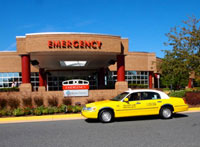 Use our online reservation to book you cab. Good for future reservations or right now service. Why wait on hold go to our reservation link and book now!
Smart Phone Apps
Ordering a cab just got easier! Scan the QR code for your smart phone or smart device and book your ride without even dialing! Use the Apps for future reservations or "Right Now" service. Follow the status of your trip from reservation to the cab at arriving at your pick up location!
iPhone App

To download our mobile

booking application,

just scan the

QR code for your device.


TO CANCEL A SCHEDULED RIDE PLEASE CALL (703) 491-2222.

Android App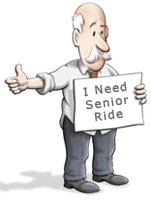 Yellow Cab of Prince William County is now proud to offer Senior Ride!
Yellow Cab understands the constraints that older adults are facing in today's economy. Along with our Swipe and Ride program, Yellow Cab of Prince William County also offers Senior Ride. With those thoughts in mind, Yellow Cab now offers Senior Ride!!
Senior Ride is an unsubsidized pre-paid program in which senior citizens 65 and older receive an additional 25% more cab fare money when they purchase a pre-paid cab fare card. The amount you choose to put on the card is increased by 25% al-lowing the senior citizens of Prince William County to get around without breaking the bank. No more haggling with a driver to get your discount; it is taken care of on your Senior Ride prepaid card! Again, like the Swipe and Ride cards, Senior Ride cards can be loaded with any amount you choose.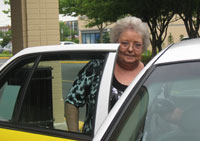 Use our Reloadable Swipe and Ride cards as a Senior Rides. Yellow Cab will add 25% of what you pay in value to your Senior Card (example pay $50.00 get $62.50 in cab fare). Senior Cards are non refundable.
| | |
| --- | --- |
| Purchase Amount | Cab Fare Value |
| $10.00 | $12.50 |
| $25.00 | $31.25 |
| $50.00 | $62.50 |
| $100.00 | $125.00 |
Proof of age is required at the time of purchase.
Purchases can be made in person, by mail, email or fax.
To purchase in person, visit our office Monday through Thursday 8:30 am until 4:30 pm. and Friday 8:30 am until 3:30 pm. We must receive proof of age with every request.
With other Prince William County cab companies, drivers determine whether or not to offer Senior Discounts.
Yellow Cab's Senior Ride program ensures that you get the discount with every Prince William Yellow Cab no matter what day or time you call!
Use Yellow Cab's on demand, curb to curb transportation services for important appointments, grocery shopping, dining with friends, or anytime you need a ride. Ride with a trusted, family owned company that has been in service in the county for over 35 years. Remember, We go where people go!!!!
Mail request to:
YCPWC
P.O. Box 141 - Woodbridge, VA 22194
Remember we must see a valid government issued ID as proof of age qualification. If not purchasing in person please enclose or attach a copy of your identification, the address which your card should be mailed and your contact information (phone number, email address, etc.).
Purchasing and using a Senior Ride Prepaid Cab Fare card GUARANTEES that you will receive your Senior Citizen Discount! Senior cards are nonrefundable due to applied discounts.
For more information contact our office 703-491-2222